The 12 brave souls that make up the Yoyito fishing team all have something in common.  They have graciously volunteered their valuable fishing time to help us test our Yoyito reels on the ice.  We are honored and grateful to have these men represent us in the upcoming tournament.
Here are the team members:
| | |
| --- | --- |
| Adam Adolph | Ryan Zajic |
| Cole Anderson | Trevor Rodd |
| Jon Feldkamp | Tyler Lueck |
| Kelly Olson | Tyler Waldemarsen |
| Kyle Bieniek | William Kiblin |
| Michael Nelson | Nick Schmitz |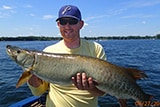 ---
Jon Feldkamp – I am a 32-year-old born in MN and have been fishing for most of my life. I enjoy summer and winter fishing and target Muskie, Pike and Walleye most often. I am expecting my first child in March 2016 and live with my wife in a suburb of St. Paul, MN.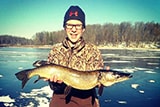 ---
Tyler Waldemarsen – Hello, my names Tyler and I'm 18 years old. Currently juggling college and fishing. I'm an avid outdoorsman who loves to fish and hunt.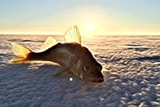 ---
Michael Nelson – My name is Mike I am an ice fishing guide on Upper Red Lake Minnesota and I am super excited to be teamed up with Yoyito!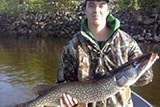 ---
Ryan Zajic – My name is Ryan. I live in Dakota county MN. Avid ice fishermen who explores many areas in Minnesota, North and South Dakota, and Wisconsin. Mainly target walleye, perch, crappie, and bluegills.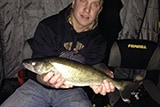 ---
Kelly Olson – Hello my name is Kelly Olson. I'm located in west central MN near willmar where I grew up living on Diamond lake, My 2 favorite hobbies are fishing and hunting.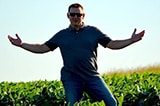 ---
Cole Anderson – I'm a full-time Realtor and full-time farmer, 30 years old. Happily married. I grew up learning to hunt and fish from my dad and grandpa. Born and raised in Dassel, MN. I spend as much time as I can in the field and on the water. Keep your lines tight my friends.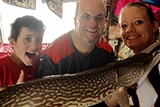 ---
William Kiblin – My name is William Kiblin . I live in coon Rapids Minnesota. To say I love the outdoors is an understatement. I love to be out either fishing or hunting all year long. I am blessed with a family that also shares the passion with me. We have an Ice Castle fish house that we use all year-long. Upper Red lake is one of our favorite places to wet a line.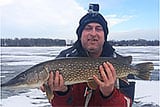 ---
Nick Schmitz – I'm 40 born and raised in Minnesota. So I get at least 50 days of ice fishing a year. I have total of 4 children. 2 from past marriage. Live in Annandale Mn. Go Cardinals. I work in construction field directional drilling. We drill under rivers, highways, and more. We pull back pipe for phone,power ,fiber optics.